A glimpse at the trends impacting our global landscape
This year marks the 80th anniversary of HP Inc. and our long history of pioneering innovation. From the original garage to today's operations in 170 countries, the company's passion for pushing boundaries, creating new experiences, and making a long-term difference in the world has flourished with intensity.
Looking across the four megatrends we previously identified— Rapid Urbanization, Changing Demographics, Hyper Globalization, and Accelerated Innovation—we noted major economic shifts driving income growth at the country and city level, especially in regions like Asia, where average household disposable income could more than triple between 2001 and 2035. We also explored the impact labor and education have on gross domestic product and income growth. That led us to take note of the deep linkage between economic expansion, energy and data usage, and the need for more efficient technologic innovations going forward.
As we look toward the next 80 years, we remain committed to creating technology that makes life better for everyone, everywhere. To do that we need to have a keen understanding of the world around us and what lies ahead. With accelerating and disruptive change all around us, it's imperative that we can anticipate what's next, and shape the future world to be one in which our company, our partners, and our customers can thrive.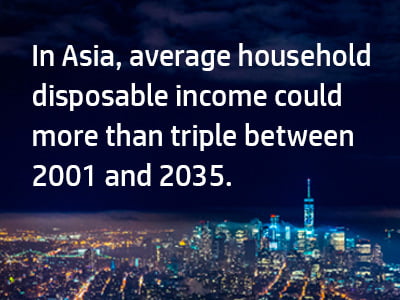 That's why each year we do extensive research and analysis on how global technological, economic, and social currents are changing and evolving. We also look at new patterns are emerging that could have profound impacts on how people will live and work around the world. We call this body of work, HP Megatrends Report, and this year's findings are the focus of the current issue of the HP Innovation Journal.
The latest issue of the Innovation Journal represents the culmination of this year's HP Megatrends research, our collaboration across HP such as the work done with Tian Chong Ng's APJ team, and HP's ongoing commitment to future advancements that will help make the world better for years to come.
Join us on this journey into the future, with a glimpse at the trends impacting our global landscape, and read the latest issue of the Innovation Journal here.