I'm happy to welcome Chandrakant Patel, HP Senior Fellow, and Chief Engineer, as a guest blogger today. Chandrakant joined me and other members of the CTO office on a recent trip to India to visit the government, customers, partners, universities, and our internal sales and engineering, teams.
For me, the most impactful takeaway of the trip was the spirit and innovation of the people in particular. In India, citizens have become very familiar with the concept of Jugaad. Simply put, this is a colloquial Hindi and Punjabi word that means an innovative fix or simple workaround, used for solutions that bend rules, or a resource that can be used as such, or a person who can solve a complicated issue. During our trip, we saw it embedded throughout the entire culture.
I'm excited to get an additional perspective on our trip from Chandrakant. But before I turn it over to him, let me tell you a little bit more about him.
Chandrakant founded the cyber-physical systems (Internet of Things) research at HP Labs, and articulated applications in resource management at city scales. In his role as Chief Engineer, he has created an effective model for cooperative engineering by building horizontal cross company virtual teams in fundamental hardware and software areas. He has also managed HP Laboratories, leading the delivery of innovations in storage, networking, print engines and software platforms.
Okay Chandrakant, the floor is all yours.

_____________________________________________________________________________
The HP team recently visited India. Digital India, the Prime Minister's ambitious intent to connect the 1 billion and provide a range of inclusive services, was one of the motivations for our visit. We went to India with the assertion that indigenous innovation in information (cyber) and physical technologies will achieve the PM's dream in a country that is steeped in fundamentals. Besides looking within the hallowed halls of industry and academia in India, we also sought immersion in grassroots innovations.
We went beyond Bangalore to capture the culture of innovation in India. We witnessed the prowess of Indian companies, the ingenuity of people at the grass roots level, and were humbled by our visit to Mani Bhavan, the home of Mahatama Gandhi in Mumbai. As we prepared to leave for the USA, we reflected on the culture of innovation as exemplified by "Jugaad".
When it came to Jugaad, we had to look no further than my late father – a Civil Engineer from the University of Illinois, Urbana-Champaign. A man steeped in fundamentals, he was a Jugaadi like many Indians across the country.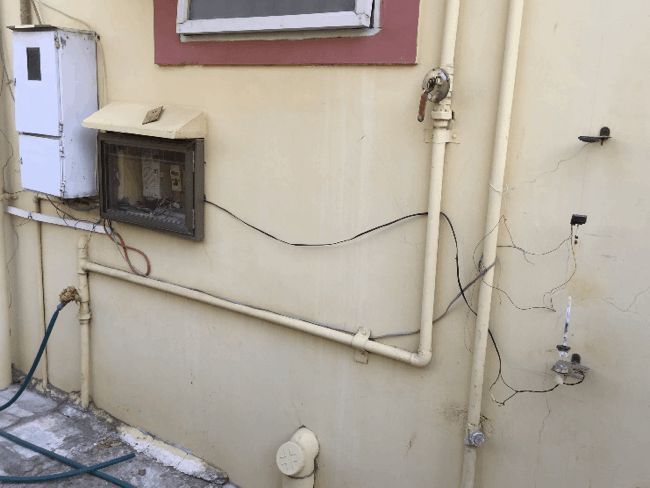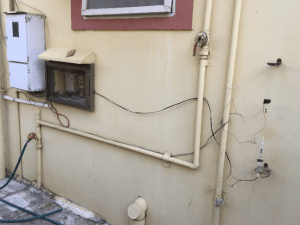 A great example of one of his Jugaad innovations is a "smart" water management system without an Internet connection. In cities and towns in India, the water supply from municipality is scheduled for a few hours and the water pressure is low. Many homes also draw underground water using a bored tube well as a second source. Water reservoirs – often underground – are used to collect water during the scheduled municipal water supply to allow for use on a continuous basis. In order to avail pressure in water faucets, and other facilities, water is pumped to the rooftop and stored in a rooftop reservoir. Gravitational pressure is used to deliver water to the faucets. This type of arrangement can be considered as a simple local supply-side water microgrid.
While these reservoirs are an elegant approach to assure a continuous reliable supply of water, the automated management of water is a must to improve efficiency: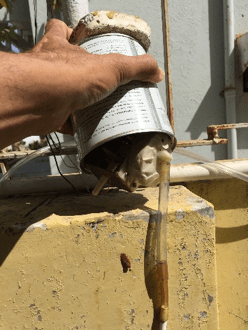 the reservoir at ground level must be full before the pump is turned on.
once the reservoir on the rooftop is full, the pump must be turned off to save electricity and water (by preventing overflow)
If the reservoir at ground level does not get enough municipal water, groundwater must be pumped up by turning on the bore pump
These pictures show a smart water management system – a Jugaad innovation by my father, Late Mr. Durlabhbhai Patel of Vadodara, Gujarat, India. Mr. Patel used a system of readily available components to build a smart water management system at our home. Figure 1 shows a pressure switch from a clothes washer that triggers the pump at the ground level. Level meters, created using a system of floats using plastic bottles and twine (fishing line), serve as level indicators and act as a switch. As the tank on the roof top fills up, the level indicator traverses down and chucks to the stationary magnet (magnet from a discarded refrigerator) to close the switch and stop the pump so the roof top tank does not overflow.
The pump switching uses a system of relays – retrieved from discarded electrical equipment, and the entire circuitry is built at home.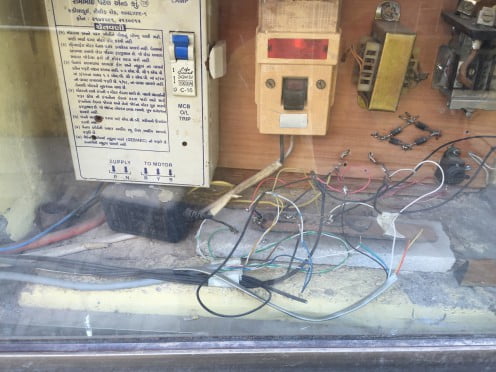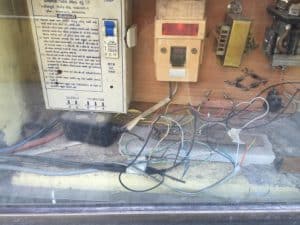 If the underground tank cannot be filled by municipal water, an "if-then-else" approach switches to underground water from the bore pump.
In a world rife with utopian view of Internet based smart cities and "smart homes" of the future, Mr. Patel and other Jugaddi's in India have created the future. They are ahead of the curve. And, their cyber physical system at home scale is not connected to the Internet. There is no need as the feedback control system assures automated operation.
When it comes to "smart homes", we should leverage such local smart home control systems for resource management. And, for management at city scales, we should focus on "Jugaad" innovations in networking and information technologies to build low bandwidth Internet connections for policy based control and inclusive services. The vision of connecting billions of people, and things, to the Internet will be realized – but not with the type of over provisioning of physical infrastructure (data centers of US scale as an example) and networking we are accustomed to the in the United States.