Sridhar Solur is the Director of Next Gen Computing – Incubation and Innovation at HP, and an integral part of the Printing and Personal Systems CTO team. He most recently worked on the MB Chronowing watch. I'm thrilled to welcome Sridhar as a guest blogger today so he can share his insight on what it takes to create a wearable.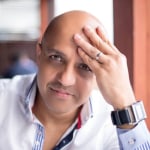 Before I hand it over to Sridhar, let me tell you more about him. Sridhar is focused on wearables and IoT at HP. He is also a serial intrapreneur with a track record of incubating, building, and growing new businesses. Sridhar was instrumental in creating HP's Cloud and Mobile Printing business (commercialized as HP ePrint), he has several patents, is an avid speaker, marathon runner and has lived and worked in all three geographies. In his spare time, he is a Mentor to 500 Startups and is on the advisory board of several incubators.
Okay Sridhar, the floor is all yours.
I don't consider myself a guru on Wearables but I can promise you I have learnt quite a bit through the creation and launch of the MB Chronowing Smartwatch.
Remember, fashion is what you wear and electronics is what you carry. So, make it gorgeous or make it invisible. The first killer app is emotions!! Unless, you are doing it for health reasons/industry vertical applications.
Resist the temptation to duplicate the old user interface rules of mobile into a wearable.
Use familiar shapes and socially acceptable practices. Screaming commands into a watch may be a tad uncomfortable to many people.
Trying to sell your wearable as jewelry is not easy. Remember, jewelry is timeless and technology is ephemeral.
And finally, less is more. We are already slaves to our phones and live in a hyper notified world. Wearables/IoT technologies should amplify our ability to absorb information and things should be done for us and not done by us. For example, lesser the engagement with your smartwatch, the better. The last thing you want is people looking at their smartwatches and driving!